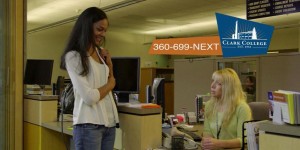 Actress Kacy Owens steps up to enroll
When we first met Clark's marketing director, Brian Scott, the changing marketplace was causing concern at this two-year community college in Vancouver, Washington. They'd been using billboard ads, but costs were rising and the ads were often out-of-sync with the quarterly enrollment cycle.  Mr. Scott felt the solution was local cable commercials, which would allow Clark to market to a very targeted demographic – for example, students living in the Vancouver area who are likely to watch E! or Fox Sports.  The challenge:  To put Clark College in the same league as the big-budget national spots at a price they could afford.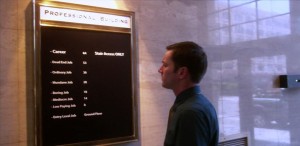 Actor, Keith Korter reads directory of jobs (nice prop)
SpykerMedia partnered with Mr. Scott to create three commercials that met Clark's budget while standing out from the crowd.  The spots featured beautiful high-definition footage of the campus, and one ad featured Clark's champion soccer team.  Mr. Scott credits the commercials with a significant uptick in enrollment.  The "Soccer" spot won a Telly award.
Eager to repeat this success, Mr. Scott engaged SpykerMedia to produce more commercials.  SpykerMedia developed the concepts for and produced two commercials that relied on concise and compelling storytelling instead of the typical happy-students-holding-books routine.  "Running" and "Elevator" emphasize the idea of life as a journey with obstacles to overcome – which Clark College helps you to surmount.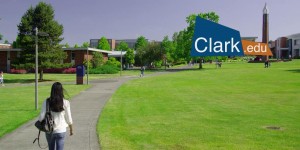 Kacy Ownens heads onto campus as camera crane rises
After these ads aired, Clark's enrollment rose 20%.  Mr. Scott attributes this, in part, to SpykerMedia's savvy commercial campaign.
Clark College was further delighted at the nationwide recognition it received when the commercials won Gold Medallions from the National Council for Marketing and Public Relations, an association of communicators at two-year colleges.  Another SpykerMedia's Clark College spots promoting its recently opened satellite campus at Columbia Tech Center was awarded a Silver Medallion (perhaps not surprisingly, enrollment is high at this new facility).
SpykerMedia is pleased to be a trusted partner in Clark College's growth.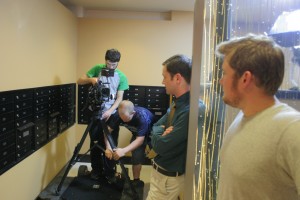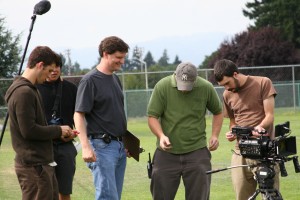 Between takes on "Soccer" spot.
Left to right: Liam Gillies (1st AC), Brian Yazzie (sound),
Simon Spykerman (director), Eric Strahl (Grip),
Hunter Richards (DP)