Video is the most persuasive marketing tool at your disposal, and is second only to word of mouth for its ability to influence decision-makers at every stage of the customer life cycle.
Portland video marketing agency Spykermedia uses video to communicate your message, connect with your prospects, and propel them toward a purchase decision.
We work primarily with marketing directors, implementing your video marketing strategies or developing a customized video marketing strategy which is tied to your marketing objectives.
Our clients include manufacturers, technology companies, small businesses, educational institutions, and nonprofits, most of which are in the B2B space.

Video Production
We offer full-service video production, handling everything from concept development and scriptwriting to final delivery. Our team of videographers, editors, animators, voiceover artists, and writers are ready to serve your production needs. We can work at your location or you can rent the studio space conveniently located near PDX.
We create videos for websites, trade shows, and fundraising events, as well as producing cable and television network commercials.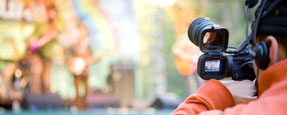 Types of video
Video Marketing
Our entire focus is on marketing videos, creating videos for every stage of the customer lifecycle. We offer consulting services on best practices for video style, length and deployment strategy.
We work to produce the type of video that will best achieve your marketing objectives and leverage third party solutions like video hosting, analytics, and marketing automation to generate and track results for your spending.
We can create how-to and thought leadership videos for YouTube campaigns to increase brand awareness, as well as sales videos for integration into your website in order to increase website conversion rates, capture and nurture leads, and ultimately increase sales via professional video hosting platforms.
Video Hosting
We provide video hosting with HTML 5 players, multiple byte rate encoding, and great analytics for easy integration into your website. We also work with video hosting platforms like Wistia and the JW Network.
Video SEO
We provide video SEO services, optimizing your videos to increase rankings in search results.
YouTube Marketing
We can create a branded YouTube or Vimeo channel for your business, upload and optimize your videos for search, and manage your account. We can run paid video promotion campaigns to increase views for targeted audiences through YouTube Promote.
Conversion Video Optimization
We also offer conversion video optimization services – meaning we analyze the viewership and engagement rate of your video and provide re-editing to improve conversion rates.
Marketing Automation
We offer consulting support for video e-mail marketing, using services like Constant Contact and Infusionsoft. We also support video player gating for lead capture with services like Wistia, and we implement video auto-responders for lead nurturing.
To learn how we work, see Our Process »
To learn why we're different, see Who We Are »